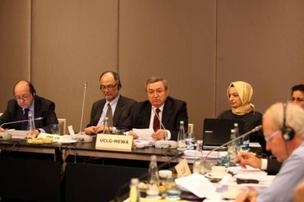 The Global Task Force meeting in Istanbul, March 2013. Photo: UCLG
[25 March 2013] -- With the Millennium Development Goals due to expire in 2015 and Habitat II coming up in 2016, a debate is currently underway to determine what the next set of development goals should be. United Cities and Local Governments (UCLG) has formed a task force of its members and partners that aims to develop a joint strategy to ensure that the views of local and regional governments are represented in the new development agenda.
The Global Task Force of Local and Regional Governments for Post-2015 and Habitat III held its second meeting in Istanbul, Turkey 19-20 March 2013.  As a partner and supporter of the Task Force, the Cities Alliance was represented at the event by Urban Specialist Dr. Rene Peter Hohmann.
The meeting concluded with the adoption of a joint communiqué outlining priorities for a new development agenda. The communiqué stressed that the new development agenda should be people-centred and acknowledge local and regional governments as key actors in development.  
It highlighted several areas that should become an integral part of the new global agenda:
Democratic self-governing, participative, efficient, accountable and resourced Local and Regional Government within the framework of a better intergovernmental coordination, harmonisation processes and effective decentralisation
Food Security and Nutrition as basis for poverty eradication
Quality Universal Basic Service Provision geared towards reducing inequalities and improving the lives of slum dwellers, including a gender sensitive approach. These services should foster inclusive societies that are mindful of providing opportunities for youth.
Local Economic Development, with a focus on pro-poor policies and decent job creation in a green urban economy which promotes sustainable consumption and production
Sustainable Urbanisation as source of development: Cities that are well planned, designed and governed can generate economic growth and means of livelihood. This includes a territorial approach and cohesion, with special attention to climate change mitigation and adaptation, risk prevention and safe cities.
Culture as driver and enabler of development and people-centreed societies.
Protection and sustainable management of the environment, biodiversity and natural resources
Local Government Development Cooperation (Decentralised Cooperation) as an instrument to promote solidarity and peer learning
Read the full press release issued by the Task Force
More about UCLG's advocacy in advance of 2015