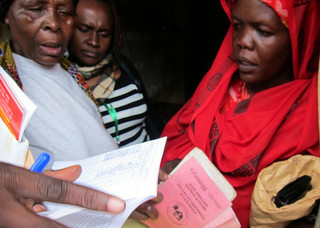 Saving group in Kisenyi, Uganda, Photo: SDI
[25 March 2013] -- The Ugandan NGO ACTogether has published a new toolkit that aims to encourage civic participation among urban poor communities.
As the support NGO for the National Slum Dwellers Federation of Uganda, ACTogether is a key partner in the Cities Alliance Country Programme in Uganda (Transforming the Settlements of the Urban Poor in Uganda, or TSUPU).
The toolkit introduces the Learning-By-Doing Approach, a horizontal exchange that is the primary learning strategy of Shack/Slum Dwellers International (SDI). The concept behind the approach is that participants within the savings networks learn best from each other. Community-to-community exchanges allow participants to see themselves and their peers as experts, and equip them with practical knowledge that they can refine to suit their own community dynamics. The approach has proven very successful in encouraging participation and civic engagement.
ACTogether's toolkit focuses on applying the approach in Uganda, where the government and donor partners have recognised the strength of the methodology and incorporated it into national slum upgrading programmes. It highlights six tools that have been successfully deployed by urban poor organisations in Uganda:
TOOL ONE: Enumeration and mapping

TOOL TWO: Partnerships for service provision

TOOL THREE: Community savings

TOOL FOUR: Forums for inclusive planning

TOOL FIVE: Community finance

TOOL SIX: Peer-to-peer exchange
 Download A Learning-by-Doing Approach to Active Urban Citizenship in Uganda: The Toolkit (1.23 MB pdf)