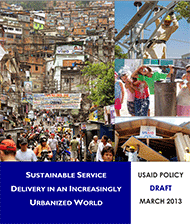 [11 March 2013] -- For the first time, USAID is engaging the public in an open consultation process by posting the draft of its forthcoming Sustainable Service Delivery in an Increasingly Urbanized World Policy for public comment.
The policy seeks to enhance the capacity of countries and communities to provide sustainable urban services. In so doing, it seeks to prepare USAID for the ongoing rapid growth of cities throughout the world. As with other USAID policies, the Sustainable Urban Services Policy will provide guidance to 80+ USAID Missions in the field.
 
USAID IS seeking feedback on the draft until March 25 and welcomes any comments. Please be assured that all comments will be thoughtfully reviewed and considered by the USAID Sustainable Urban Services Policy Task Team (PTT).