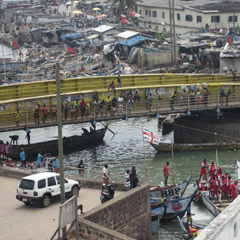 More than half of all Ghanaians live in cities. Photo: Susanna Henderson/Cities Alliance
 
[19 August 2011] -- Ghana's increasingly sharp focus on urban development was evident at a Special Session of the Ghana Urban Forum this past July.
Initially launched in 2009 with support from CHF International, the Ghana Urban Forum aims to become a permanent forum for all stakeholders in Ghana's urban sector to establish a national consensus on dealing with the challenges and opportunities of rapid urbanisation.
According to the most recent census, more than half of all Ghanaians now live in cities.
Held 13 July in Accra, the Forum brought together senior Ghanaian officials, local authorities, international development organisations, NGOs and community-based organisations.
It was also attended by representatives of the Cities Alliance, who were in Accra for the Cities Alliance Executive Committee meetings 11-12 July.
The Forum was the first such major event devoted to urban development issues hosted by the Ministry of Local Government and Rural Development, an indication of the ownership the Ministry has taken of Ghana's urban agenda.
In his opening remarks, Minister for Local Government and Rural Development Samuel Ofosu-Ampofo noted that his Ministry is spearheading the development of a comprehensive national urban policy, as well as an action plan to implement the policy. Both have been submitted to the Cabinet for approval, he said.
Mr. Ofosu-Ampofo also urged local authorities in Ghana to work together with other urban stakeholders to ensure that the needs of the people are met.
"I wish to use this opportunity to call on all [Metropolitan, Municipal and District Assemblies] to use your mandate as planning authorities to ensure proper planning to better the well-being of the people by collaborating with traditional authorities, land owners, civil society groups and the private sector to ensure effective organisation of economic and socio-cultural activities," he noted.
In his remarks, Minister of Water Resources, Works and Housing Alban S. K. Bagbin called for the establishment of a new Ministry responsible for Housing and Urban Development. He also stressed the urgent need to adopt a holistic approach to city development.
"It is imperative that you plan for what will happen, not what you hope will not happen. You cannot deal with slums as a project if half of your city is made up of slums and uninformed settlements. You need to deal with the city as a whole," Mr. Bagbin said.
The Forum also provided local government leaders and communities with an opportunity to take the first steps towards establishing a dialogue. Mayors from three cities and representatives from community-based organisations such as People's Dialogue and StreetNet participated in a joint panel discussion moderated by Clare Short, former Secretary for International Development DFID/UK and Chairperson of the Cities Alliance Policy Advisory Forum.
Local authorities, including Accra Mayor Alfred Vanderpuije – who has previously been criticised for his administration's efforts to evict slum dwellers in the city – and Cape Coast Mayor Anthony Egyir Aikins as well as Sekondi-Takoradi Mayor Anthony R. Cudjoe engaged positively on alternative solutions and agreed on the benefits of consultation with affected communities.
Cities Alliance is supporting the Ghana Urban Forum as part of its Country Partnership Programme in Ghana. The Forum marks the first time Cities Alliance has played an advocacy role working as a partnership, effectively reaching the broader urban stakeholder audience in Ghana through close interaction between Ghanaian partners and Cities Alliance representatives.
Related Information