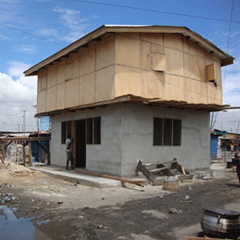 Community centre being built by residents of Old Fadama, Accra, Ghana. Photo: Andrea Zeman/Cities Alliance
[23 June 2011] -- The Cities Alliance Executive Committee is gearing up to meet in Accra, Ghana 11-13 July 2011.
The location in Ghana will give the Executive Committee an opportunity to see an emerging Cities Alliance Country Partnership Programme in action.
Habitat for Humanity International, a member of the Cities Alliance Consultative Group, will also join the meeting in order to learn about the Country Partnership Programme model.
Typically, Executive Committee meetings are also accompanied by a meeting of the Cities Alliance Policy Advisory Forum, which is chaired by Clare Short, former Secretary for International Development (DFID/UK).
This year, the Cities Alliance and the Ministry of Local Government and Rural Development will co-host a special session of the Ghana Urban Forum, one of the key components of the Ghana Country Partnership Programme.
The Forum will bring together key national, local and community stakeholders from throughout the country around the theme "Planning for Ghana's Urban Future." Mr. Paul Victor Obeng, Chairman of the National Development Planning Commission, is expected to give the keynote address at the event.
The address will be followed by a round table discussion that includes both local government and community perspectives from Ghana as well as Uganda and Burkina Faso, where Cities Alliance also has Country Partnership Programmes in progress.