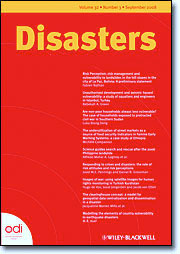 [21 March 2011] -- Adapting operations and policies to urban areas is high priority in the humanitarian sector. To address urban conditions, agencies have grappled with inner city programmes and researchers have adopted new methodologies.
This special issue of the Overseas Development Institute (ODI) journal Disasters will be devoted to publishing the knowledge that has been gained.
ODI invites policy-makers, academics and practitioners to share their experiences and lessons learnt regarding responding to displaced populations living in urban areas, and providing assistance during natural or conflict induced disasters.
Submissions would be subject to peer-review before being published (possibly in revised form) in the Special Issue.
Abstracts should be submitted by 4 April 2011, sent to hpgresearch@odi.org.uk. The deadline for full articles is 27 June 2011 (max. 8,000 words).
Given space limitations in the Special Issue, ODI reserves the right to make a selection of the most interesting submissions. To request further information, please use the email above.

For More Information
http://www.odi.org.uk/news/details.asp?id=310&title=disasters-humanitarian-response-conflict-urban-urbanisation
About ODI
The Overseas Development Institute (ODI) is Britain's leading independent think tank on international development and humanitarian issues. Its mission is to inspire and inform policy and practice which lead to the reduction of poverty, the alleviation of suffering and the achievement of sustainable livelihoods in developing countries.