The housing programme is transforming Ethiopia's cities, especially Addis Ababa. Photo: William Cobbett/Cities Alliance
[9 July 2012] -- Faced with a massive housing shortage, the Government of Ethiopia is undertaking a bold programme that is transforming housing delivery in the country.
Although it is one of the least urbanised countries in the world, Ethiopia's urban population is growing at the high rate of 4.3 per cent as a result of high natural growth and rural-to-urban migration. Over 50 per cent of all Ethiopians are under the age of 18.
Cities, especially the capital of Addis Ababa, have struggled to keep up with the demand for housing. A severe backlog in housing supply has driven up rental and property prices, making it very difficult to find affordable housing. As a result, more than 70 per cent of Ethiopia's urban population lives in slum conditions.
In 2006, the Government of Ethiopia launched the Integrated Housing Development Programme (IHDP) as part of a broader urban development policy in an effort to deliver affordable housing to poor and middle income residents and create jobs.
The programme has been implemented in 56 towns across the country, building some 208,000 housing units to date. Approximately half of the total production has been concentrated in Addis Ababa, which houses around 25 percent of the Ethiopia's urban population. The programme is transforming the face of Addis, with its new condominium blocks becoming increasingly visible throughout the city.
A notable feature of the housing programme is that it has created some 176,000 jobs.The labour-intensive delivery method makes limited use of machinery and includes the production of cobblestone roads. Stones are produced at an expansive site where large rocks are broken down, and then chiseled into standard-size cubes for road production.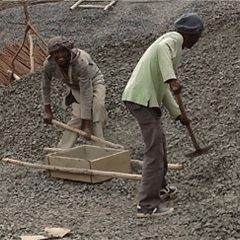 A unique aspect of Ethiopia's housing programme is its labour-intensive delivery which makes limited use of machinery. Photo: William Cobbett/Cities Alliance
Working through GIZ, the Cities Alliance is providing technical assistance support for the programme via a project titled
Housing Sector Development: Making Shelter Assets Work
, which is being funded through the Catalytic Fund. 
The Cities Alliance grant to the Ministry of Construction and Urban Development will help establish a legal framework for management of the condominiums as well as a set of procedures for the co-operative management of the housing stock, and associated social relations.
The Cities Alliance has developed an increasingly significant work programme in Ethiopia. In addition to the Making Shelter Assets Work project, the Alliance is supporting the development of an Ethiopian State of the Cities Report, an integrated urban database and the operation of the
Ethiopian Cities Network
. Ethiopia joined the Cities Alliance in 2006, and recently renewed its commitment for another five years.