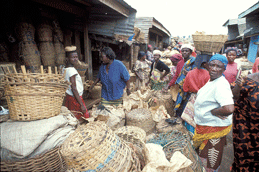 The
Agence Française de Développement
(AFD) will invest €30 million ($40,780,200) for an urban development initiative in Ghana, the
Ghana News Agency
reported May 16.
Ghana's Ministry of Local Government and Rural Development will collaborate with AFD on the new initiative, called the Municipal Contract Project.
The project aims to improve living conditions for urban residents in Ghana by focusing on infrastructure development, service delivery and capacity-building of the Metropolitan Assemblies, which oversee urban areas with populations over 250,000.
The initiative will be implemented in four cities throughout the country: Tamale in the Northern Region, Kumasi in the Ashanti Region, Sekondi/Takoradi in the Western Region, and Ho in the Volta Region.
AFD Project Manager Samuel Lefevre said that the €30 million would be divided among the Municipal Assemblies based on size and population.
Mr. Lefevre was part of a four-member team that visited Tamale May 15 to obtain a clear understanding of issues including the institutional framework, financial context, strategy initiatives and priorities of the Assemblies.
Northern Regional Minister Stephen Sumani Nayina welcomed the AFD initiative, noting that the metropolitan Tamale region was the fastest growing city in West Africa.
Mr. Nayina mentioned improvement of the city's road network, waste management, development of the markets and parking lots for vehicles as areas of particular concern.