With its substantial investment in building the institutional space for partnership, TSUPU has created a unique platform for World Bank investments into secondary cities. Initially launched in five towns, TSUPU has expanded to an additional 9 cities nationwide through the World Bank's US$150 million municipal support programme.
[12 April 2013] -- The Cities Alliance Country Programme in Uganda has leveraged US$150 million in financing from the World Bank to improve urban infrastructure and service delivery in 14 Ugandan municipalities.

Launched in 2010, the Transforming the Settlements of the Urban Poor in Uganda (TSUPU) Programme is fast becoming recognised within the global community as an example of best practice. It has established the importance of alignment at the national, municipal and civil society levels, and demonstrated how such alignment brings greater coherence of effort both within government and from its support partners.

With its substantial investment in building the institutional space for partnership, TSUPU created a unique platform for World Bank investment into Uganda's secondary cities.

Initially focused on the five towns of Arua, Mbale, Mbarara, Jinja and Kabale, TSUPU mobilised nearly 14,000 slum dwellers into 303 savings groups, which were federated into committees at the settlement and city development level. These organisations of the urban poor worked in partnership with municipalities to identify and prioritise projects, and then oversaw their implementation. The projects were financed by small grants from a fund located within the municipal government.

The practical experience gained through this process provided the upfront institutional framework to support the World Bank's US$150 million Uganda Support to Municipal Infrastructure Development (USMID) project, expanding TSUPU from five to 14 secondary cities.

The nine new TSUPU towns are:  Gulu, Lira (Northern Uganda), Soroti, Moroto, Tororo, Entebbe, Masaka, Fort Portal and Hoima.

In all of these cities, the TSUPU initiative will help ensure that the urban poor are actively engaged in planning as citizens with rights and responsibilities. It will also help ensure effective oversight of government budgeting and expenditure.
 
The World Bank's USMID municipal support programme

The World Bank Board of Executive Directors approved the US$150 million in financing for USMID on 28 March 2013. The initiative will expand urban infrastructure, and enhance the capacity of the 14 municipal local governments to generate own source revenues, improve urban planning, and strengthen financial management, procurement, environmental and social systems.

"We chose these 14 out of the 22 municipalities to reflect regional balance, and also because 13 of them have demonstrated capacity to handle the increased investments under the programme," said Martin Onyach-Olaa, Senior Urban Specialist at the World Bank in Uganda.

The Ugandan Government's current Local Government Management and Service Delivery Programme does not provide the municipalities with adequate funds to meet their strategic infrastructure investment needs.

The USMID will be delivered under a special instrument known as the Program-for-Results or PforR, which is an innovative new financing instrument for the World Bank's client countries that links the disbursement of funds directly to the delivery of defined results. This is the third PforR for Africa after the ones for Tanzania Local Government and a health project in Ethiopia.

The USMID programme will also involve a range of administration, oversight and support activities to be undertaken by the relevant central government entities. The Government of Uganda is contributing $10 million in counterpart funding.

The 14 municipalities will have significant discretion in selecting priority projects from a menu including roads and associated infrastructure; liquid and solid waste management; water and sewerage; local economic infrastructure (e.g. markets); and urban transport (e.g. bus terminals).
TSUPU Promotes Good Governance in Arua
As a result of TSUPU, communities and the municipality are working together as genuine partners in Arua.
For the first time, communities were involved in the selection, planning, implementation, and monitoring of projects in their neighbourhoods—all in a transparent way. With the initial 6 projects complete, communities are currently negotiating agreements with the municipality on their sustainability.
In Arua, TSUPU is widely recognised as a programme that promotes good governance and prudent management of funds to benefit all Ugandans. 
Communities have been empowered and become agents of change in the municipality. Residents feel valued and have developed a strong understanding of their responsibility as citizens, while the municipality recognises the value of working with communities.
It has become clear to all parties involved that development must be a collaborative undertaking.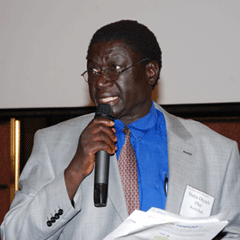 The World Bank is a key partner in the Cities Alliance Uganda Country Programme. Photo: Martin Onyach-Olaa, World Bank Sr Urban Specialist participating in the 2012 Cities Alliance Executive Committee meetings.
Related Items
World Bank Boosts 14 Ugandan Municipalities with Urban Infrastructure (Press Release)