What began as a gathering of local authorities in Paris in 2004 has expanded to represent more than two-thirds of the global population. And United Cities and Local Governments (UCLG) is just getting started.
[14 May 2014] -- Ten years ago, leaders and representatives of cities and regions from around the world came together in Paris to create a united world organisation of local authorities, and the United Cities and Local Governments (UCLG) was born. 
It was a watershed moment for cities. For the first time, local and regional authorities had a shared voice to represent them and advocate on their behalf on the global stage.
Cities Alliance Director William Cobbett remembers the event well, and the sense of enthusiasm surrounding it.
"I had the pleasure of accompanying Mark Hildebrand, Cities Alliance's first manager, to the launch of UCLG in Paris in May 2004," Cobbett noted. "Although everyone knew that the negotiations that preceded the launch had been lengthy and difficult, there was a real sense of excitement and celebration that we finally had a unified global voice for the world's local governments." 
Today, UCLG represents more than 500,000 local and regional governments in 140 countries – over two-thirds of the global population.
To mark this milestone, UCLG has reaffirmed its commitment to the original ideals behind its establishment:
  --  Cities, as drivers of innovation and development, must exchange experiences and knowledge to be able to face the important challenges of today that have a direct effect on the lives of citizens. Within this context, it is important for the voice of the local level to be fully articulated and heard at the global level.
  --  Local governments are closest to citizens and are responsible for ensuring essential services such as security, mobility, access to water and culture. In doing so they improve the well-being of residents and make inclusive, sustainable and peaceful societies possible. 
Last year, UCLG marked the centennial celebration of the international municipal movement in Rabat. This year, the organisation celebrates ten years of a groundbreaking initiative taken by local governments, for local governments. 
Its unified voice is especially important now, as we are drawing closer to the Habitat III Conference in 2016, during which the Urban Agenda will be defined as part of the ongoing process to shape the Post-2015 Development Agenda. 
"As all Cities Alliance members, the role of UCLG is more important than ever before, and the next ten years are going to be decisive," Cobbett noted.
As the debate around the global urban agenda continues, there is one thing we can be sure of:  Through 2016 and beyond, UCLG will continue to tirelessly promote the values, objectives and interests of local authorities around the world.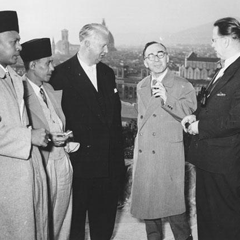 The international municipal movement was founded in 1913 in Ghent, and in the 1950s began expanding beyond Europe and North America to include cities from all over the world. Above, the World Congress of Mayors, 1955. Photo: UCLG
The role of UCLG is more important than ever before, and the next ten years are going to be decisive. -- William Cobbett, Director of the Cities Alliance
Related Items
Video celebrating 10 years of UCLG
More about Post2015 at the Sustainable Development Solutions Network