Not enough attention is being paid to the fastest growing urban areas of all, and the ones most likely to shape our urban future: secondary cities. To raise the profile of secondary cities, the Cities Alliance has made the issue one of our main focus areas for 2014.
[9 June 2014] -- Much ink has been devoted to the role large cities such as Mumbai, São Paulo and Cairo can play in a country's economic growth. But not enough attention is being paid to the fastest growing urban areas of all, and the ones most likely to shape our urban future: secondary cities.
These cities, ranging in size from between 150,000 and five million, are becoming increasingly important for global development. Some 75 per cent of the world's population lives urban settlements of fewer than 500,000 people.
Despite their growing role, countries often ignore the productive role that secondary cities can play in a balanced national system of cities.
As a result, many secondary cities are facing numerous development challenges – including creating jobs, attracting investment for needed infrastructure, and diversifying or revitalising their economies – with far fewer options than their larger counterparts.
The problem will likely get worse as secondary cities, especially in African countries, are expected to double or even triple in population over the next 15 to 25 years. This means large infrastructure and service shortfalls, few opportunities for economic growth, and rising urban poverty.
Tapping the economic potential of secondary cities
A balanced system of cities with strong secondary cities offers tremendous potential for regional and national economic development.  Countries with a strong system of secondary cities – that are not dominated by a single megacity – tend to have lower levels of regional development disparities, higher levels of national productivity, and greater income per capita. South Africa and the United States are two good examples.
With a more efficient system of secondary cities, many poor cities and rural regions could double or even triple their GDP. Small and medium-sized cities can facilitate the localised production, transportation, and transfer of goods and services throughout a country.
They can also enable other substantial economic benefits, including: industry agglomeration, localised supply chains and networks, a diverse economic and employment base, and a broad housing mix.
For secondary cities to become successful in engaging trade and fostering local economic development, they must learn how to be more competitive. There is no question that the central government has an important role in making this happen.
National governments can encourage competition between cities and assist them in enhancing their governance efficiency and business competitiveness. Decentralisation helps as well; the more autonomy secondary cities have, the more competitive, dynamic, and self-sufficient they are likely to be.
National policies are also critical. Countries that implement urbanisation policies to improve the development of the national system of cities tend to be much more successful in managing urbanisation, city development, and ensuring equity between cities than countries that allocate a disproportionate amount of their public resources to the development of one or two large cities.
Finally, cities need to be able to unlock latent capital to attract investment and create sustainable employment. This requires significant policy reforms at the central government level which can give secondary cities the opportunity and power to capitalise and leverage assets to ensure local land, property, and financial markets function more efficiently, effectively and profitably. 
The Cities Alliance response
One of the main ways the Cities Alliance supports secondary cities on a regular basis is through our flagship Country Programmes. These are longer-term, programmatic approaches designed to improve cooperation among national and local governments, urban poor communities, investors and other partners, and many focus specifically on secondary cities.
In Uganda, for example, the Country Programme initially focused on five secondary cities – Arua, Mbale, Mbarara, Kabale and Jinja – and was subsequently expanded to an additional nine cities through $150 million in World Bank financing. And in Burkina Faso, the Country Programme is supporting the secondary cities of Dori, Dedougou and Tenkodogo in building capacity to implement strategic development plans.
To raise the profile of secondary cities, the Cities Alliance has made the issue one of our main focus areas for 2014. We have undertaken several high-profile activities in order to draw more attention to secondary cities and the development challenges they face:
  --  Global study on secondary cities. International development agencies are beginning to show an interest in supporting the development of secondary cities; however, there is little credible scholarship on the issue. To help close that knowledge gap, the Cities Alliance commissioned a global study on the systems of secondary cities in five regions and 16 countries, titled The System of Secondary Cities, which is expected to be published in September.  
  --  A CIVIS knowledge product has been published to highlight the key messages of the global study on secondary cities, including the importance of decentralisation for developing a strong network of secondary cities, the role of national urban policies, the need to encourage greater competition among cities, and how to develop latent capital.
  --  Our theme at the World Urban Forum. Secondary cities was the theme of the Cities Alliance's participation at the most high-profile urban event of the year – the World Urban Forum in Medellin, Colombia in April. We hosted a well-attended networking event on secondary cities that generated considerable interest as well as a pre-launch reception for the global study.
Fast Facts about Secondary Cities
  -- Although they produce less than 40 per cent of the global GDP, secondary cities provide most of the resources needed to support the operations and development of the world's largest cities. 
  -- In an age of growing competition, trade, and exchanges between cities globally, function and role – not population size – are increasingly defining a secondary city's status with the global system of cities.
  -- There are more than 2,400 cities in the world that could be loosely described as secondary cities; nearly two-thirds are located in Africa and Asia.
  -- In China, some secondary cities have populations of over five million; in Ethiopia, they have fewer than 200,000.
  -- The development of inland secondary cities in developing regions lags well behind those located on coastlines or major river systems.
  -- The growing gap in socioeconomic development between primary and secondary cities directly affects their capacity to develop and compete for trade and investment.
  -- There is very poor data and information available on the economy, land, finance, infrastructure, and governance of secondary cities, which severely limits cities' ability to plan, manage urban development, and promote economic growth.
Source: Civis, The Systems of Secondary Cities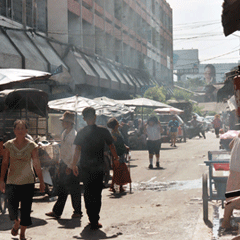 Although they produce less than 40 per cent of the global GDP, secondary cities provide most of the resources needed to support the world's largest cities, such as Bangkok (above). Photo: William Cobbett/Cities Alliance
Secondary Cities are asset rich and cash poor. How to better use these assets is a key for development. -- Dr. Brian Roberts, Author of The System of Secondary Cities

Related Items
Civis on The Systems of Secondary Cities
Cities Alliance participation at the World Urban Forum 2014