The Jawaharlal Nehru Urban Renewal Mission has brought a new focus to urban development in India. The Peer Exchange and Reflective Learning (PEARL) network helps cities implement JNNURM projects and reforms by enabling them to share knowledge. Cities Alliance has supported PEARL since early 2010.
The massive Jawaharlal Nehru Urban Renewal Mission (JNNURM) has brought a new focus to urban development in India. The single largest urban development initiative in India's history, JNNURM links funding for infrastructure projects with significant urban reforms.
In order to facilitate the implementation of JNNURM projects and reforms, the Government of India established the Peer Exchange and Reflective Learning (PEARL) network to enable knowledge sharing among participating cities.
Cities Alliance has supported PEARL since early 2010, and as part of that support a workshop was recently held in Goa, India on strengthening peer learning networks within the Indian urban sector.
A new urban focus in India
Launched in 2005, JNNURM marked a major shift in urban development in India. Previous programmes undertaken by the National Government had primarily focused on rural development. However, the 2001 census showed clearly that India's population of more than one billion was becoming increasingly urban. (Source: Ministry of Urban Development, India)
JNNURM infrastructure projects are underway in cities across India. Above: Mumbai. Photo: William Cobbett/Cities Alliance
Recognising that India would continue urbanising, the National Government began emphasising the potential of cities to economic growth. "Urbanisation is a relentless process, which has come to stay and has to be factored into all our developmental thinking and development processes," Prime Minister Manmohan Singh said in a 2005 speech.
"With urbanisation comes the need to invest in infrastructure and improve the quality of life in our cities … The latent creativity and vitality of our cities and the people who live in them must be tapped to facilitate higher economic growth."
 However, there are a number of constraints limiting the growth and development of India's urban areas. Most cities and towns lack adequate infrastructure or service availability, and outdated statutes and indifferent implementation of laws impede land and housing markets. Moreover, slums are proliferating and urban poverty is on the rise.
 In order to jump-start the process of urban renewal, the Government of India in 2005 launched JNNURM, a  massive $22 billion urban infrastructure programme that links funding support to cities to significant urban reforms in the areas of urban governance, service delivery, planning and municipal finance over a seven-year period. This reform process is also designed to strengthen the urban local bodies.
The programme is focused on the following areas:
  --  Providing integrated development of infrastructure services;
  --  Securing linkages between asset creation and asset maintenance through reforms to ensure that the infrastructure projects established in cities are sustainable over the long-term;
  --  Accelerating the flow of investment into urban infrastructure services;
  --  Planning development of cities including per-urban areas, outgrowths, and urban corridors;
  --  Renewing and redeveloping inner city areas; and
  --  Ensuring that urban services are universally available to the urban poor.
The initiative consists of two sub-missions: Urban Infrastructure and Governance, which is implemented by the Ministry of Urban Development (MoUD); and Basic Services to the Urban Poor, which is overseen by the Ministry of Housing and Urban Poverty Alleviation (MoHUPA). Currently, the coverage of JNNURM extends to sixty-five major cities across India.
Five years into JNNURM, the programme has already had a significant impact. It has substantially raised the profile of urban issues among Indian policy makers.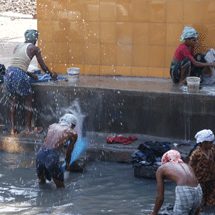 Laundry day in a Mumbai slum. Photo: William Cobbett/Cities Alliance 
Governments at all levels—national, state and local—have committed funding for projects that improve basic services as well as housing for the urban poor. 
Participating cities have created development plans, many for the first time. There have also been reforms in key areas, including the repeal of laws that hampered urban development and the passage of community participation and public disclosure legislation.
PEARL: Sharing knowledge to help implement urban renewal
Another positive impact of JNNURM is that it has fostered knowledge sharing on urban issues among India's cities. In order to help the 65 participating cities implement the ambitious initiative, the Government of India launched the Peer Exchange and Learning (PEARL) network in 2007.
The PEARL network facilitates cross-learning and knowledge exchange among the 65 cities in the areas of urban reforms, city governance, and infrastructure projects. It also helps urban local bodies enhance their capacity to implement the JNNURM projects and reforms. 
Cities Alliance has supported the PEARL network since early 2010 through a three-year grant facility. In collaboration with the World Bank Institute (WBI), Cities Alliance is providing the technical know-how to transform PEARL into an effective horizontal learning network by strengthening the process of information exchange and developing need-based knowledge products. 
Within this framework of support, an International Workshop on Strengthening Peer Learning Networks in the Indian Urban Sector was organised by the WBI, Cities Alliance and the New Delhi-based National Institute of Urban Affairs (NIUA) in Goa, India 23-24 July 2010. 
The workshop aimed to help participants understand how peer networks function successfully in other countries and identify lessons that could be applied to PEARL. It featured international case studies with direct relevance to the PEARL experience, including: 
  -- The League of Cities of the Philippines (LCP). Former Mayor of San Fernando City Mary Jane Ortega discussed the LCP's experience with networking on technical assistance to develop city development strategies, collaboration that subsequently developed into to an exchange of expertise on implementing sectoral programmes. The network has now become the policy and advocacy unit of cities in the Philippines. 
  --  The South African Cities Network (SACN). CEO Sithole Mbanga outlined the demand-and-criteria based selection of cities to SACN in order to achieve shared goals, with an emphasis on human settlements, land and public transport issues. 
  --  City consortiums in Brazil. Renata C. Boulos, partner of the international consulting firm INCIDE and former official of the Santo André municipal government, discussed the consortium/coordination approach adopted by Brazilian cities to improve service delivery, address governance issues, and access national and international financial resources. 
  --  Horizontal learning in Bangladesh. Nabaroon Bhattacharjee of the Water and Sanitation Program-South Asia gave an overview of how local authorities in Bangladesh are working together to identify, share and replicate best practices in service delivery through appreciative inquiry, an approach to change that emphasises how to build on elements that are working well. 
The workshop also featured an overview of the challenges facing PEARL and an action plan for operationalising the network, provided by Vijay Dhar of the NIUA and the Knowledge Managers for PEARL—CEPT University, represented by Saswat Bandhopadhyay; All India Institute of Local Self Government (AIILSG), represented by Sneha Palnitkar; City Managers Association of Madhya Pradesh (CMAMP), represented by Renu Handa; and Administrative Staff College of India (ASCI), represented by Vijaya Venkataraman. 
Other noteworthy sessions included an international overview of horizontal learning by Tim Campbell of the Urban Age Institute and a discussion on the concepts, tools and techniques for effective horizontal learning by Andre Herzog and Sheila Jagannathan of the WBI. 
Panelists at a Cities Alliance-supported workshop on peer learning networks in July 2010. Photo: Ajay Suri/Cities Alliance 
Key issues that emerged from the discussions that took place during the technical sessions and working groups regarding PEARL's mandate to support cities in implementing the reforms and projects under JNNURM included the following: 
  --  Incentivising cities to become active members of the network, possibly by broadening engagement with the Urban Local Bodies (ULBs) to include elected representatives as well as technical and non-technical officials on sectoral issues;
  --  Strengthening the capacity of PEARL's Knowledge Managers to facilitate effective engagement with JNNURM member cities; 
  --  Targeting cities' specific knowledge needs to help them fulfill their commitments under JNNURM, including participative knowledge needs assessments and the development of knowledge products; and 
  --  Upscaling PEARL to become an urban knowledge hub. It may be too early to expand PEARL's membership beyond the 65 JNNURM mission cities to include the more than 700 small and medium towns that are part of the Indian Government's Urban Infrastructure Development Scheme for Small and Medium Towns (UIDSSMT), or to address issues that are outside the JNNURM mandate. The current strategy involves consolidating the network rather than expanding it.
The Cities Alliance Secretariat and the WBI provided input to NIUA on designing the workshop, identifying global good practices and preparing briefs for the presenters. The Secretariat and the WBI also engaged with networks in Bangladesh, Brazil, the Philippines and South Africa on their participation in the event.
Participants included officials from the Indian Ministry of Urban Development, state governments and JNNURM mission cities, as well as representatives of PEARL Knowledge Managers, NGOs, resource organisations and international organisations including the Asian Development Bank, GTZ, the World Bank, the Cities Development Initiative for Asia, and the Water and Sanitation Program – South Asia.
For More Information
The PEARL website at www.indiaurbanportal.in
The JNNURM website at www.jnnurm.nic.in
Speech by Prime Minister Singh at the December 2009 JNNURM National Conference
Project information on Cities Alliance support for PEARL from our project database