Liberia was thrust into the world's media limelight during the onset of the Ebola Virus Disease outbreak in March 2014. But now Liberia is making a comeback, and the country is beginning a new chapter. The Cities Alliance looks forward to partnering with Liberia as it moves forward the sustainable city agenda.
[30 June  2015] – President Ellen Johnson Sirleaf's opening remarks at the launch of Liberia's first National Urban Forum drove home the message of the urgent need to respond to the rapid pace of urbanisation by making cities sustainable.

The Forum, which was held in Monrovia on 24 and 25 June with the theme Towards a National Urban Policy, was attended by over three hundred delegates from Government ministries, city corporations, civil society organisations, development partners, private sector and universities. It was supported by Cities Alliance and UN-Habitat, and hosted by the Ministry of Internal Affairs in collaboration with Monrovia City Corporation and the Land Commission. The Forum was a milestone in Liberia's preparation to participate in the United Nations Conference on Housing and Sustainable Urban Development in Quito, Ecuador in 2016.

Around half of the world's population today is living in cities. This was less than five per cent a century ago. It is estimated that in 2050 this will reach around 70 per cent, representing 6.4 billion people. Even more impressive is that 95 per cent of this urban expansion will take place in developing countries, mostly in Africa and Asia. These changes represent both significant challenges and opportunities. 

During the Forum President Sirleaf highlighted that 2.1 million of Liberia's 4 million inhabitants live in urban areas across the country and 1.3 million reside in the capital Monrovia. Monrovia's steep increase in residents, which was primarily caused by internal displacement during the country's 14-year civil conflict, has placed acute pressure on basic social services, housing and governance. 

President Sirleaf stressed the importance of decongesting Monrovia as a major challenge. "Monrovia is where most of us reside. But we have not been able to expand services which include electricity, roads and access to water nor have we been able to provide access, within a reasonable time, to the education and health services that are required," she said.

In response to Liberia's challenges, the Cities Alliance is designing a Monrovia City Programme that seeks to provide direct service investments, especially for the urban poor and youth living in informal settlements in greater Monrovia through an active community, local and national government partnership. The goal is to support Liberia by improving the quality of support provided to cities in the country and to eventually take the programme to national level, including county capitals.
 
During a key meeting between President Sirleaf and Senior Policy Advisor for the Cities Alliance Clare Short, the President advocated for the participation of slum dwellers in city planning and acknowledged the important role of Cities Alliance in establishing sustainable cities in Liberia. "This programme allows for the first time for slum dwellers to be part of the national development process," she said.

Ms. Short in turn conveyed that Cities Alliance was pleased to be a partner of the Forum in order to support the Government of Liberia and slum dwellers evaluate the progress made so far, and establish how to meet the needs of the urban population, with particular focus on improving the lives of the urban poor.
 
In response to the urgency in creating sustainable and clean cities that are resilient to environmental shocks including climate change, President Sirleaf said that the Liberian government had embarked on the implementation of a National Policy on Decentralisation and Local Governance, with a strong focus on provision of basic social services.
 
The expected outcomes of the National Urban Forum are the development of a road map for a National Urban Policy including the Monrovia City Programme, the building of consensus on the city's recovery and development strategy, endorsement of Liberia's National Habitat Report and innovative tools in urban settlement profiling and slum upgrading from project experiences in Africa. 

For more information on the Cities Alliance programme in Liberia please contact: info@citiesalliance.org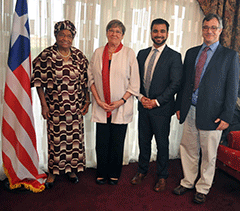 From left: President Sirleaf, Clare Short, Omar Siddique, and Julian Baskin of the Cities Alliance.          
[Cities Alliance] programme allows for the first time for slum dwellers to be part of the national development process." --President Ellen Sirleaf