Julie Greenwalt and Julian Baskin of Cities Alliance argue on devex.com that a new vision of truly smart cities is needed — one that can lead on mitigation and adapt to climate change by putting all residents at the center of sustainable development.
[30 March 2017] -- Too often, when we picture smart cities, we think of shiny, polished, technologically advanced cities — replicating Dubai and Singapore around the world. Visions of world cities, eco-cities and smart cities that are more focused on optics than addressing development needs will not be the solution to achieving the Paris Climate Change Agreement or Agenda 2030.

This vision is neither attainable nor ultimately smart for cities with limited financial resources, high rates of poverty and increasing degradation of the environment. These factors affect many cities in Africa and Asia, which have the fastest rates of urban growth.

Environmentally sound urban planning cannot be about paving over green space, constructing high rises and removing slum dwellers from their homes, but rather involves diverse stakeholders in creating inclusive communities with space for ecosystems, culture and a vibrant economy with small and medium-sized enterprises.

One of the most difficult realities of climate change is that the urban poor in Africa and Asia — who are among the least to contribute to the problem — are already suffering most from its impacts, and will continue to do so if resilience solutions do not put them at the center.

A new vision of truly smart cities is needed — one that can lead on mitigation and adapt to climate change by putting all residents at the center of sustainable development. Smart cities, where "green" is not gilded but includes trees, fertile open space, thriving plant and animal biodiversity and clear blue waterways under blue, smog-free skies, are the future. Cities that are intelligent and responsive, because they provide public transportation options for men, women and young people to reach diverse economic opportunities throughout the city, for example.

Cities that have invested in smart people, that work in local government and that are learning in local universities can develop local solutions to these global problems and agreements. Building on this, the private sector should be incentivized to create smart technology, such as renewable energy, that both reduces carbon emissions and provides much-needed basic services. Such innovations and technology can help cities to adapt to climate change, and increase disaster risk reduction that is effective across neighborhoods, regardless of income level — not concentrated on the wealthy and well-connected.

Ingenuity is already evident in many slum communities and informal economic markets, where men, women and young people find creative solutions for housing, basic services and economic opportunity. When people are empowered with data and information about their community — as is happening through the Slum Dwellers International Know Your City campaign in cities from Liberia to Uganda — the power is transformative. As Hassan Kiberu, an SDI federation member from Uganda, states: "We have decision making powers now. This is true in Uganda and also across the network."

Imagine now the "smart city" vision if slum dwellers become the champions of the environment and combine the information and support to address climate change with the knowledge they are generating about their settlements.

Here are three ways that smarter cities are being created by the urban poor working with local government and other stakeholders:

1. Historic marginalization of the urban poor has forced them to build informal settlements on environmentally sensitive lands. In Uganda, this issue is being addressed by the creation of Municipal Development Forums. These forums are co-governed by organized communities and the local government to bring together all stakeholders — including slum dwellers and private sector — to meet on a regular basis and to explore solutions for pressing issues such as land and affordable housing. A solution derived from these forums has enabled land to be consolidated and made available to communities for affordable housing. The forums are currently being institutionalized by the Ugandan government as a participatory platform integrated into city governance.

2. In Durban, South Africa, this multi-stakeholder partnership model is utilized to address climate change adaptation and environmental issues with initiatives from the Durban Adaptation Charter to the Palmiet Rehabilitation Project. In the latter, diverse stakeholders, including local communities, have created an action plan to address the water pollution, scarcity and a decline in water quality that has reduced the vital water-related ecosystem services that the Palmiet river can provide. Local communities are involved in waste removal and a pilot recycling project to prevent waste polluting the river and to remove alien invasive species. In addition to improving the environment, this has also yielded job opportunities and community environmental education programmes.

3. Informal traders are also a vibrant yet precarious piece of the economy in many countries. In Liberia, informal traders and the informal economy tend to be perceived as a problem instead of an integral part of the national GDP that would benefit from governance and regulatory support. Improved understanding — within the government — of the role of the informal economy and support for the organization of informal workers have provided a basis for engagement on how national and local policies can be better devised to support the growth of this hybrid economy.

Locally derived, smart solutions for community leadership, affordable housing, local economic development and ecosystem restoration — what could be smarter for cities? Cities have always been innovative, dynamic, problem-solving places. These latest and greatest challenges of climate change and increased urbanization will be solved by the women, men and young people who live and work in these cities, and have the intelligence, creativity and passion to make them better, greener, more equitable places.

A sustainable future in which the Paris Agreement commitments are met cannot be attained merely by smart technology but must include the ingenuity of the urban poor.

Over six weeks, Devex and our partners will explore what it takes to build a successful smart city, how climate resilient and environmentally friendly infrastructure and technologies are being implemented, and how actors in the global development community are working together toward common goals and engaging local communities in an inclusive way. Join us as we examine what it takes to create our smart cities of the future by tagging #SmartCities and @Devex.
About the Authors



Julie Greenwalt
joined the Cities Alliance Secretariat as an urban environment specialist in June 2016. She is responsible for mainstreaming environmental concerns into Cities Alliance's operations and provides technical advisory services to the Joint Work Programme on Resilient Cities. Julie has over eight years of experience working on sustainable development with a focus on climate change, sustainable land use and urban development.
Julian Baskin
is a town and regional planner from South Africa with more than 25 years of experience in urban programming, with a particular focus on participatory slum upgrading and affordable housing. He is currently head of programme unit at Cities Alliance, where he manages the country programme team, which is active in Uganda, Ghana, Vietnam, Mozambique and Burkina Faso.
Crossposted on devex.com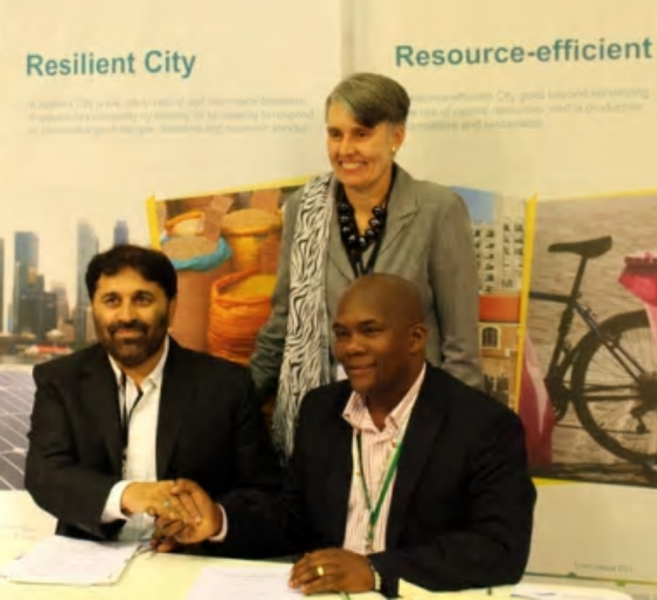 New signatories of the Durban Adaptation Charter and The Mexico City Pact at the World Mayors Summit on Climate Change. Photo by: ICLEI - Local Governments for Sustainability
Imagine now the "smart city" vision if slum dwellers become the champions of the environment and combine the information and support to address climate change with the knowledge they are generating about their settlements.
Related Items:
See more stories on Smart Cities:
Smart cities need to make sure they don't leave people behind
Opinion: Get smart or decline — The stark choice for emerging cities
5 lessons for cities on the cusp of a smart revolution
Q&A: MIT's Carlo Ratti on people-driven 'senseable' cities
Q&A: BearingPoint Partner Jean-Michel Huet on what makes a city truly 'smart'