Local and Regional Leaders Define the City of the Future at Mexico City Summit
Close to 3,000 local and regional leaders from around the world met recently in Mexico City to define and articulate a vision for the city of the future as a collective response to the challenges facing our urban world.

[1 December 2010] -- Close to 3,000 local and regional leaders from around the world met recently in Mexico City to define and articulate a vision for the city of the future as a collective response to the challenges facing our urban world. 
Against the backdrop of the triennial World Congress of Local and Regional Leaders, also the Third Congress of United Cities and Local Governments (UCLG), which was held from 17-20 November, the leaders noted that in a world that is increasingly urban and globally intertwined cities of all sizes face myriad challenges as well as share common goals.They are however, resolved to remain "united in a common determination to make our urban world a better, more inclusive world."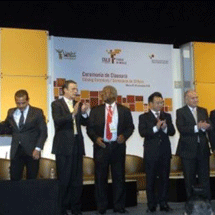 Local and regional leaders from around the world articulated a vision for the city of the future at the recent UCLG World Summit in Mexico City. Photo: Chii Akporji/Cities Alliance
A Manifesto for the City of 2030
They rose from the three-day meeting with a "Manifesto for the City in 2030," to guide the work towards a better more inclusive urban world. Key features of this ideal city are that it will be:
  --  A democratic, self-governing city – with a city government and leadership, chosen by the people and accountable to them. It is one where the city government will have the right powers, finances and human resources to enable it to develop high quality public policies and which will work with other levels of government to engender common approaches to successful development. 
  --  An inclusive city of participation – with a vision built on the participation of all citizens, poor as well as rich, women and men, young and old, migrant as well as multi-generation residents. 
  --  A city with a clear vision for its future – based on an accurate diagnosis of its potential and its resources, and a plan of action to make it a reality. This vision and the plan will be developed and implemented in partnership with the citizens, as well as the public and private partners. 
  --  A liveable city – a blend of the positively planned and the creatively organic: planned - to enable sound investments in infrastructure, facilities and services, with coherence and aesthetic in urban design and fabric, and resilience to natural hazards; and organic - to enable the city to develop and enhance its own life, culture, economic and social diversity without overweening regulation. 
  --  A creative city – one which constantly inspires and nurtures creativity and innovation, which fosters and promotes culture, the essential "fourth pillar" of the sustainable city, giving full recognition to the role of its artists, placing a high premium on education, at all levels and for all ages, and endowing its children and adults with the skills, knowledge, and qualities they require. 
  --  A secure city and a city of peace – one where women, and men can live without fear of any kind of violence and actively  supports initiatives for dialogue, reconciliation and peace among communities and nations. 
  --  A mobile city – one in which people will be able to circulate freely and efficiently, for work, education, shopping, and leisure; where goods can be delivered and moved at the right times and in the right modes. 
  --  A city fit for work – one where economic development will be geared towards the needs and technologies of the future, enabling a climate of enterprise for businesses of all sizes, and offering decent jobs. 
  --  A city with pride in its public services – providing high quality, accessible, affordable public services to strengthen the city's economic as well as social life, and to create a common sense of belonging. 
  --  A city without slums – The city of 2030 will be one in which the needs of the poor are integrated into the city's planning systems for land use, infrastructure development and public services. 
  --  A cleaner, greener, more compact city - The city of 2030 will strive to reduce its environmental footprint, giving priority to energy efficiency, to renewable energies and non-polluting technologies. 
  --  The city of 2030 – will be one with a shared responsibility for governance, one which will endorse a system of cooperation between neighbouring municipalities, creating metropolitan or wider regions or provinces, to better leverage human and financial opportunities. 
  --  The city of 2030 will have UCLG as its strong partner in global governance - The role of UCLG in this respect becomes ever more with increasing urbanisation and as our futures intertwine ever more intricately.
In addition to this all-important "Manifesto for the City for 2030" the Local and Regional leaders articulated 13 key messages on specific issues that they are currently faced with, including urging national governments to ensure that local and regional governments are not disproportionately impacted by budget and fiscal reductions arising from the global economic and fiscal crises; saying 'No' to recentralisation attempts on the parts of national governments; urging the international community to recognise the centrality of the urban challenge for our common future; emphasising the importance of good local governance in the development of towns, cities and regions, based on policies of inclusion, participation and transparency; promoting cultural diversity; promoting women's rights as an essential element of good governance; and, advocating for a new international status for local and regional governments and UCLG. 
As regards climate change, which was the focus of the next Summit the leaders attended immediately following the Third Congress they resolved to meet the climate change challenge headlong by signing the Mexico Climate Pact and urging UCLG's members to join the Resilient Cities Campaign for risk management and prevention.  
The Third World Congress of Local and Regional Leaders ended in with the election of Kadir Topbas, Mayor of Istanbul, as the new President of United Cities and Local Governments. Joining him as co-presidents were Antonio Costa of Lisbon, Portugal; Johnny Araya of San Jose, Costa Rica; Wan Qingliang of  Guangzhou, China; Muchadeyi Masunda of Harare, Zimbabwe, and Ilsur Metsin of Kasan, the Russian Federation. Ted Ellis, Mayor of Bluffton, Indiana, USA was ratified as Treasurer. 
The City of Rabat, Morocco was selected to host the next World Congress of UCLG in 2013. 
For More Information 
  --  Read "Local and Regional Leaders Agree on a Manifesto for the City of 2030" on the UCLG website 
  --  Find out more about the the UCLG Third World Congress and Local and Regional Leaders World Summit at the UCLG Congress Portal
01/12/2010