The country's first-ever National Urban Forum, held in Ouagadougou 26-27 October, was a historic step towards an inclusive development model based on local government and community participation, and a milestone in the Cities Alliance Country Programme.
[28 October 2015] -- Burkina Faso has shown its endurance following the recent coup attempt in September which brought the capital city to a standstill. The country held its first-ever National Urban Forum in Ouagadougou 26 October 2015, a major milestone in Burkina Faso's efforts to promote inclusive development and bring citizens into the urban planning process.
The Government of Burkina Faso hosted the Forum, and it was clear that the urban agenda has strong support at the highest level. President Michel Kafando and Prime Minister Yacouba Isaac Zida were both in attendance, as was Minister of Housing and Urban Development Bessolé René Bagoro, other sectoral Ministers, regional Governors and additional high-ranking officials.

The event drew international attention – U.S. Ambassador Tulinabo S. Mushingi, Brazilian Ambassador Régina Bittencourt, Belgian envoy Philip Heuts, and the First Counsellor to the French Ambassador, Véronique Dan, were among the 300 attendees .

Cities Alliance, which supported the Forum as part of its Burkina Faso Urban Country Programme, was represented by Lead Urban Specialist Serge Allou, who also served as a high-level panelist. UN-Habitat, a major implementing partner of the Country Programme, was represented by Professor Banji Oyelaran-Oyeyinka, Director of the Regional Office for Africa  

Participants clearly relished the historic opportunity to debate Burkina Faso's urban transition. Discussion was lively and thoughtful, with representatives from the national government, municipalities and communities eager to contribute and share experiences on themes such as civil society participation, resilience and climate change and the role of local governments.

The event concluded on 27 October with a declaration stressing the importance of the Forum as a platform for dialogue and consultation, and that it should – and will – be institutionalised. A second Forum is already planned for Bobo Dioulasso in 2016.  

The National Urban Forum is also a key milestone in the implementation process of the Burkina Faso Country Programme. It follows four Municipal Urban Forums, which were organised in the secondary cities of Bobo-Dioulasso, Dori, Dedougou and Tenkodogo. These Municipal Forums feed into the National Urban Forum, which aims to address the main challenges identified at the municipal level and reach agreement on how to put the national urban policy into practice. It also seeks to coordinate the various efforts of partners supporting city planning in the country.  

In the context of the current political transition in Burkina Faso and the elections scheduled for November 2015, the National Urban Forum also provides inputs to inform the public debate around the role of inclusive cities in development.
Urbanisation in Burkina Faso
Total population of 14 million (2006 census)
  --  20.2% live in cities
  --  76.5 % of urban residents live in slums
  --  351 municipalities, 49 of them urban
  --  13.9% of Burkinabes have access to electricity; 2.3% to sewage
One of the least urbanised countries in the world, Burkina Faso's cities – especially its secondary cities – are growing at an overwhelming rate of 5.3 percent.  Ouagadougou alone is projected to more than double between 2005 and 2020. (Source: UN-Habitat State of African Cities Report 2008).
In recent decades, the Government of Burkina Faso has implemented various initiatives to cope with rapid urbanisation, including decentralisation policies to promote grassroots development.
Despite the Government's willingness to push further with decentralisation, many of Burkina's 351 municipalities lack the capacity and funding to formulate and implement strategic urban development plans.
While Burkina Faso's civil society has grown stronger following decentralisation efforts, it is still learning how to involve itself confidently in urban governance and management issues.
The Cities Alliance Country Programme is supporting Burkina Faso as it transitions to a new, inclusive development model that is based on local government and community participation.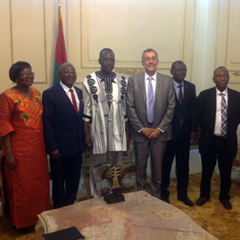 At the National Urban Forum. From left: Basilisa Sanou, UN-Habitat; Prof. Banji Oyelaran-Oyeyinka, UN-Habitat; Yacouba Isaac Zida, Prime Minister of Burkina Faso; Serge Allou, Cities Alliance; Bessolé René Bagoro, Minister of Housing and Urban Development, Burkina Faso; Joseph Guiebo, Special Advisor, UN-Habitat
"The dynamism shown at the National Urban Forum was really impressive, and it is clear that there are new, positive attitudes towards cities and ways of implementing policies developing in Burkina Faso. The challenge now is to take the enthusiasm generated by the Forum and follow it up with substantive steps for action." – Serge Allou, Cities Alliance Lead Urban Specialist
Related Items