The partnership's first Country Programme in the Middle East-North Africa region, it is a clear commitment to helping shore up the democratic process and the decentralisation initiatives begun by the Tunisian government.
[28 July  2015] – In addition to Liberia, Cities Alliance members have also agreed to support a new Country Programme in in Tunisia. It will be the partnership's first Country Programme engagement in the Middle East-North Africa region.
 
Having a Country Programme in Tunisia makes sense. The country has seen significant political and social turmoil since the Tunisian Revolution ousted longtime president Zine El Abidine Ben Ali in 2010, and this year terrorist attacks – notably on the Bardo Museum in March and at a beach resort in Sousse in June – have cost lives and threatened the country's fragile tourism industry.

The Cities Alliance initiative is a clear commitment to helping shore up the democratic process and the decentralisation initiatives begun by the national government.
In 2014 the Parliament adopted a new Constitution that fully recognises the role of cities and the need for participatory local government.
United Cities and Local Governments (UCLG) played an important role in making this happen. Shortly after the revolution, UCLG engaged in an advocacy campaign in Tunisia to put decentralisation on the political agenda and recognise cities as key drivers of national development. And in May 2012, UCLG organised a national conference, with the support of Cities Alliance and the Center for Mediterranean Integration (CMI), that was instrumental to the process that led to the drafting and adoption of the decentralisation articles within the new Constitution. 
In addition, the national government is currently setting up a five-year USD 630 million Municipal Investment Plan, which includes providing grants to municipalities to to fund critical infrastructure projects, provided the cities meet certain minimum requirements.
Several Cities Alliance members have activities underway at the national and city level to help implement the decentralisation process and support capital investment in cities, notably AFD, the World Bank and the Swiss State Secretariat for Economic Affairs (SECO). 
Others are also providing direct assistance to cities and civil society organisations to support local governance and involve citizens in the process, including the French Ministry of Foreign Affairs; GIZ; Danish Cooperation; and VNG International, the international cooperation agency of the Association of Netherlands Municipalities.

The Country Programme is a good opportunity to draw on these various initiatives, bring greater coherence among member and partner activities, and demonstrate the value of participatory urban planning in Tunisia. The Cities Alliance has a history of supporting urban planning in Tunisia; the partnership funded a successful city development strategy in Sfax, which was used as a basis for a second strategy in Sousse carried out by MedCities.
UCLG has served as a key partner in supporting and providing guidance to these urban planning initiatives, in Tunisia and beyond, not least with its groundbreaking Conference on Urban Development Strategies in the Mediterranean held in Barcelona in March 2011.
 

Opportunities for engagement

The programme is still in the very early stages, and many of the details and focus areas have yet to be developed.  However, it will likely be based on the following opportunities, which were identified by a Cities Alliance team during a mission to Tunisia in May 2015:
  --  Providing relevant assistance to cities to prepare for participatory municipal investment plans
  --  Developing strategic urban planning initiatives and incorporating methodologies for scaling them up
  --  Strengthening local democracy, citizen participation and women's engagement at the city level
  --  Addressing regional disparities and prioritising non-coastal cities
This fourth opportunity, prioritising non-coastal cities, is an especially important one. Over the years most investment has gone to Tunisia's coastal cities, where 75 per cent of the country's urban population lives and the bulk of its industry exists. Many smaller inland cities and towns – such as Kairouan, hometown of the militant who attacked tourists in Sousse – have largely been left behind, with unemployment rates far higher than those of coastal cities. The result has been large regional disparities in infrastructure, access to services, investment and job opportunities.

Tunisia's national government recognises the urgency of the situation and is seeking to put these non-coastal cities back on the development agenda. The Country Programme will help by building capacity within these cities to plan strategically, a key precursor for attracting investment and sparking sustainable, long-term, equitable growth. It will also open up spaces for dialogue so that city leaders and residents can work together to shape their city's future.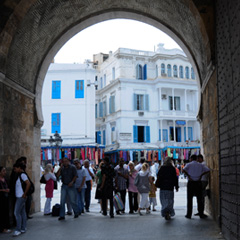 The Cities Alliance programme will support development in non-coastal cities, which have largely been neglected by the national development agenda. Photo: Dana Smillie/World Bank
Tunisia is one of the most urbanised countries in the region, with an urbanisation rate of 70 per cent. Cities account for 85 per cent of the country's GDP, with important regional disparities.