Cities Alliance is proud to congratulate the Safetipin project, one of our Catalytic Fund grantees, on the prestigious international recognition it has received in recent months.
[10 July 2018] -- Cities Alliance is proud to congratulate the Safetipin project, one of our Catalytic Fund grantees, on the prestigious international recognition it has received in recent months. 
Safetipin won the Dubai International Award for Best Practices and the Womanity Award, which recognises initiatives that protect women and girls around the world from gender violence.  And the Hindustan Times, a well-known Indian newspaper, published an article by Safetipin cofounder Kalpana Viswanath on public spaces earlier this month. 
Safetipin was one of 11 grantees of our 2014 Know Your City Call, which supported projects with innovative data collection methods that improve urban governance processes. The Cities Alliance believes strongly that cities need information to make informed policy choices and be inclusive – who lives in the city, where they come from, and what their needs are – and the Know Your City call was designed to promote innovation in this area.  
Safetipin takes a novel approach to filling data gaps and promoting public safety. It is a technology platform that makes communities and cities safer by providing safety-related information collected by users and trained auditors through an easy-to-use app. 
The Cities Alliance supported Safetipin to upscale its technology from first engagements in India to large safety audits and reports in three cities: Bogota, Delhi and Nairobi. Since then, Safetipin has built on the pilot projects in Bogota, Delhi and Nairobi to scale up their work to other geographic locations. Today, Safetipin is used by over 85,000 people in 12 cities, contributing to safer environments for women globally. 
How Safetipin works 
The Safetipin app allows users to collect and assess information about perceptions of urban safety in public spaces. When walking through the city, anyone can submit how they feel in a particular place based on nine parameters: Lighting, openness, visibility, crowd, security, walking paths, availability of public transport, gender diversity and feeling. 
To allow even larger scale data collection, Cities Alliance provided funding to develop the SafetipinNite app. It allows drivers to mount their smartphone on the window shield to take pictures of footpaths while driving. Auditors then analyse the images for safety level. 
Safetipin's large crowdsourced data sets are translated daily into city maps with safety scores. Users can consult colour-coded pins with information on the different safety parameters for various locations. The colours help women safely navigate their way through the city: Green pin = safe, orange pin= less safe, red pin = unsafe. 
Simply avoiding unsafe areas is only a short-term solution. Safetipin works together with a range of urban stakeholders, including municipalities, transport, police and lighting departments to bring about long-term change. 
Thanks to the pilot projects, Safetipin signed written agreements with the city governments of in Bogotá, Delhi and Nairobi to ensure close collaboration and data usage by the municipal departments. 
The data sets were turned into safety analysis reports for each city. By exposing problems in specific areas and providing concrete recommendations, Safetipin has been able to inform and guide the municipalities' decisions related to public safety. (Read the Bogotá, Delhi and Nairobi reports, as well as the final report on all three cities.) 
Key achievements of Safetipin 
Delhi
  --  Over 70% of areas identified with poor lighting have been improved.
  --  Delhi police used the data to plan increased patrolling in areas where safety score was low.
  --  Safetipin data was incorporated into the city's official GIS platform and the data is available to all departments. 
  --  Regular meetings on public safety are held with key stakeholders and Safetipin to discuss and assess public safety issues. 
Bogotá:
  --  The municipality introduced data collection through bikes along the entire 400 km of bike path of the city. (Watch video) 
  --  Safetipin data informs local and municipal investments in infrastructure, specifically lighting in parks, location of CCTV cameras and rebuilding pathways for better access. 
Nairobi:
  --  The municipality has integrated Safetipin data collection into their Safer Nairobi Initiative and encourages citizens to use the app as a means to communicate their civic concerns to the government. 
  --  Safetipin data was used to inform the upgrading process of the main market road through e.g. better lighting, clearing sidewalks and providing places for vendors.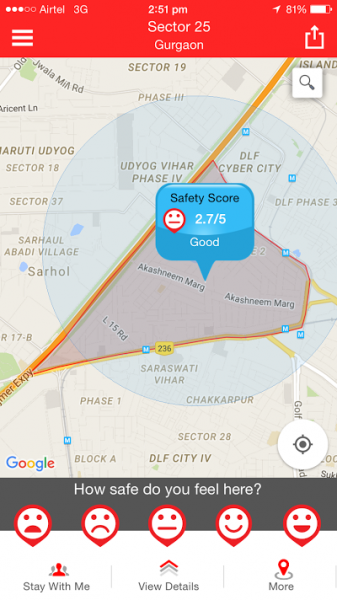 The Safetipin app in action
"We felt that the lack of safety and the violence played a role in limiting women´s ability to access the city, equality and right to citizenship." Kalpana Viswanath, Safetipin co-founder
Related Items:
Know Your City Call for Proposals   
Video of a Safetipin safety audit in Bogotá