South African President Pledges Urgent Action to Mitigate Human Settlements Needs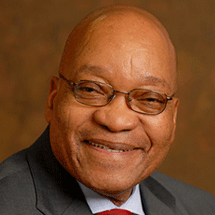 South African President Jacob Zuma. Photo: South African Government Information
[18 May 2010] -- Speaking at a special presidential coordinating council session on human settlements in Pretoria, South African President Jacob Zuma said government needs to be "quicker, smarter, use money wisely and prioritise services that would better the lives of ordinary citizens."
South Africa currently suffers a shortage of 2.1 million housing units. This affects 12 million people out of a population of 49 million and has led to the creation of 2,700 informal settlements in the nation.
To President Zuma, many South Africans are living "like pigs" 16 years after the country became a democratic nation. He cites a particular example from a visit to Sweetwaters, one of the slums south of Johannesburg and the terrible living conditions of the citizens there.
"There was nothing sweet about Sweetwaters," he said as there were no proper sanitation facilities and electricity. "There is only one unreliable communal tap according to residents. Young people there told me that they want to watch the soccer World Cup tournament and to support Bafana Bafana but there is no electricity."
As part of a national response Zuma urged a redefinition of the concept of human settlements; it should not only be just about building houses, but restoring human dignity as well. Investment in human settlements is an investment in the future: "Habitable and decent settlements promote human dignity and the stability of our communities. They lead to improved performance of children in schools, increased productivity of workers from those communities and the improvement in the general health of the population."
Situations like that of Sweetwaters prove that government should change the way it has been operating for the past 15 years. This means providing people in informal settlements with land tenure and decent services will encourage them to invest in their own housing.
It has already invested R15 million in housing subsidies this year while setting up a further R1 billion fund for people who do not qualify for either bank credit or a government subsidy. Key outputs by which progress will be measured include the upgrading of 400,000 accommodation units within informal settlements and improving access to basic services like water, electricity and sanitation.
They also include the provision of 600,000 accommodation units for people within the 'gap market', those who do not qualify for a housing subsidy but do not earn enough to qualify for a bond.
The government now has a delivery target of 20,000 units of rental accommodation per year.
The National Department of Human Settlements National Upgrading Support Programme, supported by Cities Alliance will form part of the programme to provide tenure and services to 400 000 households.
Known as "Breaking New Ground: The Comprehensive Plan for the Development of Sustainable Human Settlements," the programme was created in response to a request from then President Thabo Mbeki to find a way to tackle the issue of informal settlement upgrading by 2014. In 2005 roughly 2.3 million households in South Africa lived in shacks, either in informal settlements or in the backyards of formal housing. 
This number was increasing at a rate of 8 percent per annum, according to the then Minister of Housing, Lindiwe Sisulu who committed to reducing the total number of South Africans living in shacks to zero by 2014. 
The programme, which includes designing appropriate institutional frameworks for implementation of the programme and effective systems for managing the funding flows, taking into account international experience, is already being rolled out in the municipalities of Ekurhuleni and Tshwane.
For More Information
08/06/2010