German Development Minister: Cities are Im­por­tant De­vel­op­ment Partners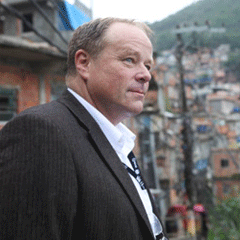 German De­vel­op­ment Minister Dirk Niebel. Photo: BMZ 
[20 June 2012, RIO DE JANEIRO] – De­vel­op­ment Minister Dirk Niebel met with city rep­re­sen­ta­tives today to dis­cuss their role in achiev­ing sus­tain­able global de­vel­op­ment.
"Some mega cities have a pop­u­la­tion which is bigger than that of a medium-sized country. This clearly shows that de­vel­op­ment in cities is crucial to fight poverty, pro­vide health care, give people access to energy, reduce resource con­sump­tion and achieve demo­cratic par­tic­i­pa­tion. Cities will be playing an even more im­por­tant role in up­coming in­ter­na­ti­o­nal nego­ti­ations on de­vel­op­ment. I would like to en­courage German cities to also get actively in­volved in nego­ti­ations and forge al­li­ances with other cities", the Minister said after the talks, during which he also met the Lord Mayor of the city of Heidelberg, Eckart Würzner.
Germany is currently imple­ment­ing more than 210 urban de­vel­op­ment projects in over 50 countries with a total funding volume of ap­prox­i­mate­ly 2.1 billion euros. In 1999, the BMZ started its co­op­er­a­tion with UN Habitat, and, in 2007, Germany founded the "Cities De­vel­op­ment Initiative for Asia" together with the Asian De­vel­op­ment Bank. Moreover, the Global Civic En­gage­ment service point was es­tab­lished at the BMZ by Dirk Niebel with the aim of en­couraging German com­mu­nities to get involved in de­vel­op­ment co­op­er­a­tion.
The BMZ is also support­ing the world's largest local gov­ern­ment as­so­cia­tion for environ­mental pro­tec­tion and sus­tain­able devel­op­ment "ICLEI – Local Govern­ments for Sustainability".
25/06/2012