Diálogos Internacionais Outras propriedades: Função Social das Cidades e Modelos Alternativos de Propriedade Imobiliária
28/08/2018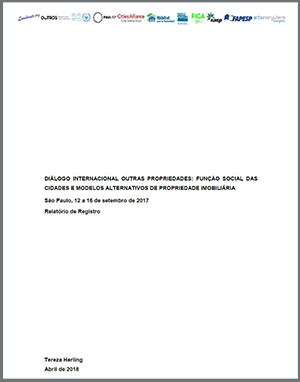 Download Other Properties: Social Function of Cities and Alternative Property Models


Over the past 20 years, many innovative public policies and collective actions have been developed that consider housing not as a commodity, but as a service and public good promoting local social development.

With the contribution of academics, specialists, public officials and civil society representatives, the International Dialogue "Other Properties" stimulated the debate on some of these experiences, grouped into four thematic axes related to key aspects of social housing policies:
 
Use of idle or underused properties, private or public;
Collective elaboration of projects for the sharing of common spaces;
Community Properties; and
Social Rent.
About the event: the International Dialogue "Other Properties: Social Function of Cities and Alternative Property Models", took place in São Paulo, Brazil 12-16 September 2017. It was co-organised by Cities Alliance in partnership with Habitat for Humanity, Suelo Seguro, FICA, FAPESP, FAU USP, Belas Artes, SASP, OUTROS, artseverywhere and lanchonete.org.

The dialogue was part of the Housing Laboratories (LAVs) component of the Urban Housing Practitioner's Hub, a practice-knowledge platform for the Latin American and Caribbean Region. The report is available in Portuguese.
Portuguese description:
Ao longo dos últimos vinte anos, uma série de experiências vêm sendo desenvolvidas em países do mundo todo, no sentido de construir políticas públicas e ações coletivas que tratem a moradia não como mercadoria, mas como um serviço e bem público, associado a outros serviços de promoção socioeconômica para o desenvolvimento das comunidades envolvidas.

São alternativas como a propriedade cooperativa ou comunitária de terras, titulação coletiva de áreas públicas e programas de locação social subsidiada.

Contando com a contribuição de acadêmicos, profissionais de diferentes áreas, gestores públicos, movimentos sociais de luta por habitação e coletivos de ativistas, o evento "Diálogos Internacionais Outras propriedades: Função Social das Cidades e Modelos Alternativos de Propriedade Imobiliária" estimulou o debate sobre algumas dessas experiências, investigando alternativas ao modelo hegemônico da construção de unidades habitacionais padronizadas, acessadas como propriedade privada individualizada.

O evento ocorreu de 12 a 16 de setembro de 2017 em São Paulo, Brasil e foi co-organizado pelo Cities Alliance em parceria com Habitat para Humanidade, Campanha Suelo Seguro, FICA, FAPESP, FAU USP, Belas Artes, SASP, OUTROS, artseverywhere e lanchonete.org.

Os Diálogos fazem parte dos Laboratorios de Vivienda (LAVs) - um dos eixos que compõem o Urban Housing Practitioners Hub (UHPH).

O presente documento relata os principais temas discutidos no evento.