Covid-19 Response Programme (Phase I)
The programme supplied communities with meaningful opportunities to work with governments and other stakeholders. Topics covered food security, access to livelihood opportunities, training, and basic services like water and sanitation. It also highlighted the need for accurate slum data. 
The urban poor federations demonstrated that they have the social networks and systems in place to respond efficiently to disasters and chronic stressors. They have a critical role as reliable actors in providing information and services to the most vulnerable. Urban poor and their organizations can deliver meaningful and enduring results. 
Many residents in slums live in overcrowded homes without access to on-site water or sanitation and face the constant threat of forced eviction. Preventative measures against Covid-19, such as hand washing, disinfecting, physical distancing, and quarantine, were often impossible for the urban poor.
In Ghana, the federation identified and mapped Covid-19 hotspots, where community members were trained to manufacture and install hand washing stations. Additionally, the federation installed in-yard water connections to vulnerable households in informal settlements. 
In Zambia, the federation supported provisional WASH (water, sanitation and hygiene) interventions in public places. It also set precedents for water provision to slum communities through community-led processes. The Zambia Alliance identified 75 vulnerable women who were at greater risk when collecting water from congested public taps. Additionally, the federation lobbied for pro-poor water subsidies in engagement meetings with water trusts and utility companies.
Despite the negative impact of Covid-19, the response to it has also created opportunities. For example, income-generating projects have equipped community members with skills that can be used to earn a living.
Federation members in Malawi, Zambia, and Zimbabwe were trained in sewing reusable face masks and producing liquid soap and sanitisers.
In Malawi, federation women and youth with design and tailoring skills produced and distributed 17,300 reusable face masks to vulnerable members of the community and primary school children. 
In Namibia, the Philippines, and Sierra Leone federations' members were trained in permaculture and supported to establish urban community gardens.
SDI affiliates adapted profiling and mapping tools of the Know Your City workstream to gather data on the impacts of Covid-19. 
In the Philippines, the federation mapped the vulnerability of 22 communities and produced localised Covid-19 hotspot maps. These included the identification of households with vulnerable groups such as seniors, children, persons with disabilities, and pregnant women.
In Botswana, the federation gathered information from 33 savings groups on the pandemic's impact on their livelihoods and savings. Many members stopped saving due to unemployment. Most of the small businesses collapsed and informal workers were not able to work due to lockdowns. This left many without jobs and the ability to feed their family.
In Zimbabwe, youth were trained on data collection tools to gather information about awareness and community preparedness for Covid-19. They also explored the pandemic's impact on livelihoods, housing, and WASH. 
The Sierra Leone SDI Alliance, in consultation with Freetown City Council (FCC), developed a mobile app (FISCOVIDATA) and live dashboard to identify hotspots and to link to government service providers in real-time. It relays information to authorities and notifies communities of actions taken. The app has been piloted in 10 slums. Sierra Leone Urban Research Centre (SLURC) and the College of Medicine and Allied Health Sciences (COMAHS) are interested in developing it further, to be used in future health emergencies.
The programme supported communities to highlight their plight and to push for meaningful change in addressing basic services, health needs, and decent shelter. 
SDI affiliates in Brazil and Malawi improved the tenure security of informal dwellers. In São Paulo, Brazil, they trained federation leaders on issues of land regularisation. A new network will continue dialogue with local governments on the security of tenure. 
In Malawi, Blantyre and Lilongwe communities improved their tenure security by obtaining title deeds for individual plots. Additionally, the federation has advocated for reducing regularisation charges by more than 50% and allowing plot owners to pay in instalments. 
In South Africa, the SA SDI Alliance has highlighted the lack of access to basic services. The Alliance is preparing to sign an official MoU with the Madibeng municipality. This will bind the municipality to a partnership with the Federation in terms of addressing informal settlement upgrading, delivering housing, and formalising structures.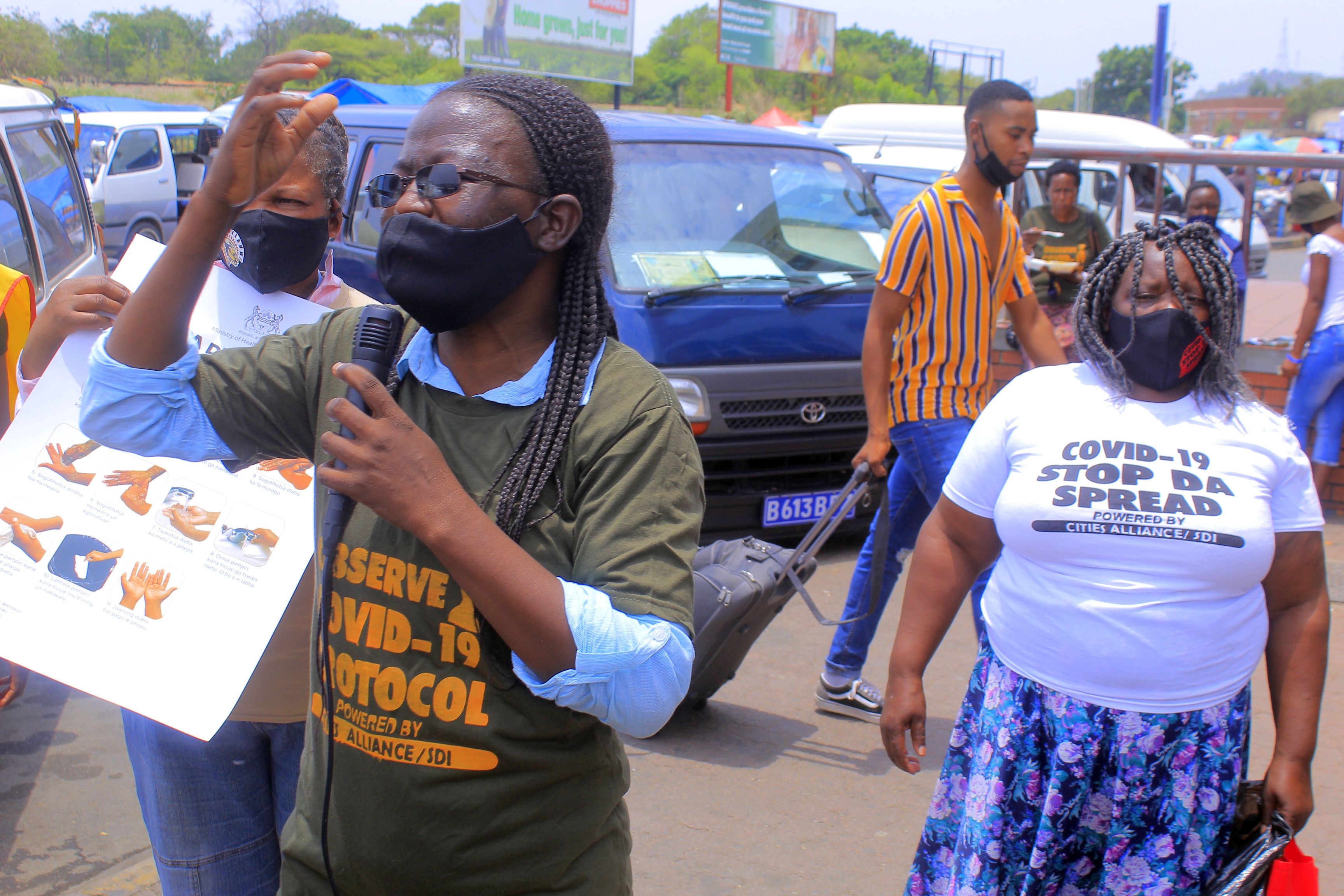 Covid-19 Recovery Programme (Phase II)
This is an ongoing programme. This section will be regularly updated.