The Cities Alliance implements a performance monitoring and evaluation system to measure the results of its activities, provide evidence for adaptive management, and capture learning and results in a systematic way. Key monitoring and evaluation tools include our Results Framework, Corporate Scorecard and Independent Evaluation. 
Results Framework
At the heart of the system is a Results Framework, which allows the Cities Alliance to measure its results, including in relation to the Sustainable Development Goals, and internal efficiency and clearly demonstrate to members and donors the value of their investment in the partnership. Click here to view our Corporate Scorecards.
Highlight Results
Across programming and through our thematic lenses, Cities Alliance targets results in 6 key Result Areas.
Since 1999, the Cities Alliance has awarded over 400 grants, totaling over US $110 million, providing assistance to more than 80 countries. Some examples of our specific results include: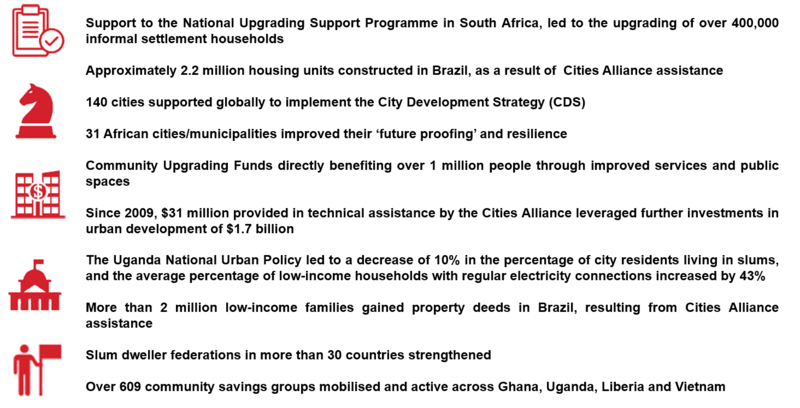 Read our Country Programme Highlight Results
Read our Global Programme Highlight Results
Read our Innovation Programme Highlight Results
Read our Independent Evaluations
Read recent news stories on Cities Alliance Results