12 November 2010: Cities Alliance Consultative Group Meeting Mexico City, 15-18 November - Logistical Updates

4 November 2010
We look forward to seeing you all next week in Mexico City!
A few logistical details:
1.) We have posted all the necessary meeting documentation on the Cities Alliance Members Page for easy download:
http://www.citiesalliance.org/ca/member/member_home
Please create a personal user account to login.
2.) UCLG Registration - all delegates that Cities Alliance is sponsoring have been pre-Registered with UCLG. The Secretariat will be picking up Member Registration packets and hand them out at the CG Meeting on Tuesday, 16 November. (Please see below for some useful instructions from UCLG)
3.) Please make plans to attend the CA Member Cocktail Reception on the 16th at the Hilton Hotel Reforma.
4.) Monday, 15 November 2010 is a holiday in Mexico celebrating the anniversary of the Mexican Revolution of 1910.
Susanna Henderson
Sr. Programme Assistant
Cities Alliance
1818H Street, NW
Washington DC
20433
USA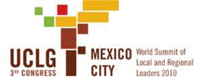 IMPORTANT LOGISTICAL INFORMATION
We are just a few days away from the Local and Regional Leaders World Summit, UCLG 3rd World Congress. In order for us to prepare in the best possible conditions your visit to Mexico and your participation at the Summit, we ask you to please take note of the following important points:
Arrival at Mexico City International Airport
 Once you arrive at either Terminal 1 or Terminal 2 of Mexico City's Benito Juárez International Airport, staff of the Mexico City Government as well as a group of volunteers will be ready to assist you. It is possible to change foreign currency into Mexican pesos at the airport. It is also possible to withdraw Mexican pesos from ATMs at the airport.
 The exchange rate as of November 5th is:
1 U.S. dollar= $12.20 Mexican pesos
1 Euro= $17.30 Mexican pesos
1 Yen= $0.15 Mexican pesos
1 British pound= $19.76 Mexican pesos
For more information about Mexico City's airport, please visit: www.aicm.com.mx
Airport – Hotel transportation
 Transportation from the airport to hotels will be provided free of charge to all delegates. Service will only include the 31 hotels officially programmed for the Summit. A list of these hotels may be found at www.uclgmexicocity2010.org
This service will be available continuously on the 15th, 16th, and 17th of November. Times of services will be more restricted on the 18 and 19th. In order to facilitate airport pick up of your group, please send us an E-mail with the following information: date and time of arrival, airline and flight number, to flights@uclgmexicocity2010.org
 Large delegations must indicate the number of persons arriving on the same flight in order for us to assign an adequately sized vehicle.
 If you wish to use other transportation services available at the airport, please note that there are four different authorized taxi services in both terminals: Sitio 300, Sitio Excelencia, Sitio Porto Taxi and Sitio Nueva Imagen. Rates for these services are publicly listed. Do not accept any other taxi services.   We remind you that transportation from your hotel to the airport on the day of your departure will not be provided. We suggest you take a taxi from your hotel.
Summit registration at the Palacio de Minería
 Please note the schedule of registration booths at the Palacio de Mineria:
·

        
Tuesday, November 16th:         9 a.m. to 7 p.m.
·

        
Wednesday, November 17th:    9 a.m. to 9 p.m.
·

        
Thursday, November 18th:        7 a.m. to 7 p.m.
·

        
Friday, November 19th:            9 a.m. to 7 p.m.
It is important that delegates who have only pre-registered bring along the original document confirming their bank transfer. If you wish to register on-site and pay with a credit card (only Visa and Master Card accepted), we suggest you inform your bank of your plans to make a transaction in Mexico in order to avoid any delays. 
We remind you that all delegates should wear their badges before attending any of the events of the Summit. Delegates must visibly wear their badges at all times.
Transportation during the Summit
From the 16th to the 20th of November, organizers will provide transportation between hotels and all Summit venues. Uninterrupted transportation will be provided in buses, vans and cycle-taxis ("bicitaxis"), easily identifiable by the Summit logo. Most of the venues located in the Historic Center can easily be reached on foot. A large group of volunteer students will happily help you move around the City Center. They can be easily identified by their yellow T-shirts marked AMIGO CGLU.
Beginning of Summit Activities
A number of preparatory meetings and side events will take place on the 16th and 17th of November. Participation in these events is by invitation only. If you are not attending any preparatory sessions or side events, your first Summit appointment is on Wednesday, November 17th, at 7:00 p.m., for the opening of the Expo on Dr. Mora street, just across the Summit's main hotel (Hilton Reforma). All delegates are welcome to assist this opening and join us for the Welcome Reception hosted by the Mayor of Mexico City at the City Hall.
We remind you that the Summit includes a City Tour programme open exclusively to delegates registered as "Accompanying persons". This program will be open on the 17th, 18th and 19th of November. Detailed information can be found at: www.uclgmexicocity2010.org
Interested delegates should register in advance since the number of places will be limited: citytours@uclgmexicocity2010.org
We remind you that the Summit includes a Technical Visits programme, open to all delegates. Technical visits will take place on the 17th, 18th and 19th of November. Detailed information can be found at: www.uclgmexicocity2010.org
Interested delegates should register in advance since the number of places will be limited: technicalvisits@uclgmexicocity.org
Mexico City's array of culinary options ranges amongst the top of the world, catering for all taste buds and budgets. We invite you to enjoy Mexican cuisine, making sure you only drink bottled water. Tips are not included in restaurant bills. A gratuity of 10 to 15% is customary, depending on the quality of service.
As in any large city, we suggest you keep a close eye on your belongings, and that you store important documents and valuables in the safe deposit boxes available at your hotels. Please be careful with your personal computers.
Mexico City is located at 2,240 meters (7,350 feet) above sea level. We suggest that you refrain from extreme physical activity until your body has adapted to the altitude.
November is a relatively cold month in Mexico City. Temperatures usually range between 5 and 10 degrees Celsius (41 to 50 degrees Fahrenheit) in the early morning and nights, and between 15 and 20 degrees Celsius (59 to 68 degrees Fahrenheit) during the day. Mexico City is usually sunny and, during November, rain is scarce or non-existent. We recommend you bring a pair of comfortable shoes with you so as to enjoy strolling around the historical centre.
Questions and emergencies once in Mexico City
Phones: (dialing from Mexico City) 5345-8024, 5345-8031
contact@uclgmexicocity2010.org