Report: Affordability Remains a Major Challenge in Africa's Housing Finance Markets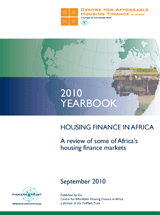 [4 November 2010] -- African economies are growing, thanks to greater political stability, macroeconomic reforms and relative resilience in the face of the global economic problems. Demand for housing is also growing, thanks to the continent's rapid urbanisation rate and the emergence of a burgeoning middle class.
However, a recent study by the Johannesburg-based Centre for Affordable Housing Finance in Africa finds that affordability remains a major challenge in African housing markets, which are constrained by factors such as poverty, a lack of long-term financing, land management systems in need of reform, and a rising cost of building materials.
The 2010 Yearbook: Housing Finance in Africa also finds that despite these challenges, lenders are becoming more proactive and experimenting with new products, and that housing microfinance is complementing conventional financing methods.
The first of its kind, the 2010 Yearbook assesses housing finance markets in 15 African countries. It places special emphasis on the key challenge of housing affordability and the critical need for housing products and finance that explicitly target the income profiles of the majority.
It aims to provide housing finance practitioners, investors, researchers and government officials with a current update of practice and developments in housing finance in Africa, reflecting the dynamic change and growth evident in the market. The study is also intended to highlight opportunities available for new initiatives and foster cooperation among practitioners as they strive to participate in the sector.
The study covers a total of 15 sample countries in which the Centre for Affordable Housing Finance has been active as well as countries in which African Union for Housing Finance members are based. Future editions plan to include additional African countries.
Some of the highlights include the following findings:
Urbanisation is an important factor in the increased demand for housing. Most of the countries surveyed in the report had urbanisation rates within the three to six percent range. Zambia has seen a drop in urbanisation rates to two percent, but it is an exception.
The high cost of land and building materials have been among the biggest impediments to the supply of affordable housing in urban centres across Africa.
Poverty remains the biggest constraint to affordability. Most poor people still live in rural areas, although the gap differs depending on the countries. The gap is small in countries such as Kenya, Malawi, Mozambique and Tanzania. Urban areas in Ghana, however, do appear to provide an escape from poverty, as only 20 per cent of the urban population is below the national poverty line, compared to 50 per cent living in rural areas. So too in Rwanda, where urban poverty is much lower that rural poverty.
 

A large proportion of the working age population is involved in the informal sector. Gambia and Ghana stand out with informal sector workers as a percentage of the working being more than 70 per cent. This is a significant statistic, especially considering that traditional forms of housing finance such as mortgages often require a stable, predictable and verifiable income among the lending criteria.
 

Property markets in most of the countries are growing, and have shown encouraging growth over the last two decades. Some have seen property prices jump by as much as 100 per cent in certain parts of their urban areas, for example in Kenya and Mozambique. This puts pressure on housing affordability for those not yet on the property ladder.
Download the 2010 Yearbook: Housing Finance in Africa (3.03 MB
)
About the Centre for Affordable Housing Finance in Africa
The Centre for Affordable Housing Finance in Africa is a division of the FinMark Trust, a non-profit independent trust funded primarily by the UK's Department for International Development (DFID) that seeks to make financial markets work for the poor by promoting financial inclusion and regional financial integration.
The vision of the Centre for Affordable Housing Finance in Africa is that housing finance practitioners as well as consumers throughout Africa have the necessary information and analysis at their disposal to enable sound and productive choices for the benefit of (especially) the poor and financially excluded.
04/11/2010