A Practical Framework to Help City Leaders Meet the Challenges of Urbanisation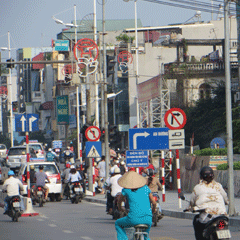 The report draws on urbanization reviews supported by the Cities Alliance, including one in Vietnam. Photo: Susanna Henderson/Cities Alliance
[2 2 January 2013] – Developing countries are urbanising fast. To meet the challenges that creates, city leaders must move quickly to plan, connect, and finance resilient and sustainable growth. A new World Bank report, undertaken with the support of the Cities Alliance, provides a framework to help.
Planning, Connecting and Financing-Now: What City Leaders Need to Know provides a framework for urban growth planning and finance, backed by case studies, to help city leaders identify the impediments to urbanisation and find the right combinations of policy options that would work politically, technically, and fiscally for their cities and countries.
It helps them think through questions such as: What must be done to create jobs and expand basic services? What must be done to improve living conditions in slums and hazard-prone areas? What must be done to manage the city's physical form?
The report's urban development framework is based on three dimensions:
Planning: Charting a course for cities by setting the terms of urbanisation, particularly policies for using urban land and expanding basic infrastructure and public services.

Connecting: Making a city's labour, goods, and services available across the city and to other cities and export markets.

Financing: Finding the up-front capital to provide infrastructure and services as urbanisation picks up speed.
The recommendations and case studies in the report are drawn, in part, from a series of Urbanization Reviews conducted by the World Bank with support from the Cities Alliance and the Swiss State Secretariat for Economic Affairs (SECO).
These reviews, which were undertaken in 12 countries across four continents, are a programme of diagnostics that provide a bedrock of credible facts and a set of solutions that are tailored to the fiscal, political, and administrative realities of cities.
The current report distills the lessons learned from these diagnostics into a practical framework for sustainable urbanisation. In particular, it features lessons from reviews in seven countries—Brazil, China, Colombia, India, Indonesia, Korea, and Vietnam—touching on issues including land ownership, housing supplies, transportation costs, and providing basic services.
The Vietnam Urbanization Review featured in the report was conducted with Cities Alliance support as part of the Cities Alliance Country Programme in Vietnam.
For more about the report, please visit the World Bank's website.
22/01/2013