New Guidelines Recommended for Slum Enumeration in India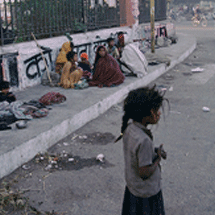 Young Indian girl stands in the street. Photo: Curt Carnemark/The World Bank
[9 September 2010] -- A Government of India expert committee has suggested that India's slum population is significantly higher than originally estimated and recommended new guidelines for enumerating slums in the 2011 Census.
In a report issued 3 September 2010, the Committee on Slum Statistics/Census projected that India's slum population in 2011 would be 93.06 million – more than 23 per cent higher than the 75.06 million originally estimated by the 2001 Census.
The committee was established by the Ministry of Housing and Urban Poverty Alleviation (MoHUPA) to examine the definition of slums and provide a more accurate statistical model for enumerating India's slum populations.  
With a census coming up in 2011 and a number of major slum upgrading initiatives underway – such as Rajiv Awas Yojana (RAY), which envisions a slum-free India by 2014 – accurate, credible data is critical.
The committee began by revising the statistical model used in enumerating slums based on data obtained in the 2001 Census, which surveyed 1,743 cities with populations greater than 50,000 residents.
After expanding the model to include the slum population in all of India's 5,161 urban areas, including the 3,799 statutory towns, the Committee revised the country's estimated slum population in 2001 from 52.4 million to 75.26 million. Estimates for 2011 were revised from 75.06 million to 93.06 million.
Moving forward to the 2011 Census, the Committee recommended counting slum populations in cities with fewer than 20,000 residents and including all statutory towns in the country for policy formulation purposes.
It also suggested broadening the definition of a slum to consist of all clusters of 20-25 households or more with the following criteria:
Roof materials using any material other than concrete

Potable water source not available within the premises of the house

Latrines not available within the premises of the house

Absence of drainage or open drainage
For More Information
14/09/2010