India conference held on sustainable cities and local governance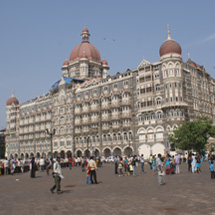 The All India Institute of Local Self Government (AIILSG) hosted an international conference titled "Local Governments for Sustainable and Safe Cities" in Goa, India 7-9 September.
The event brought together local officials and practitioners to share best practices on a number of issues related to cities and their environment. Cities Alliance Regional Adviser Ajay Suri also participated.
The themes of discussion at the conference included:
Urbanisation and climate change
Disaster risk, vulnerability assessment, and mitigation
Urban environment—water, sanitation and waste treatment
Clean energy, carbon credits and alternate transport
Climate resilient cities
Urban poor housing and health
The role of communities and stakeholders in partnerships
The leadership role—policy and governmental responsibility
A session on Sustainable Urban Infrastructure featured a presentation by Mr. U. P. S. Madan, Project Manager of the Mumbai Transformation Support Unit (MTSU). The MTSU is a special unit of AIILSG that was established with support of the Cities Alliance, the World Bank and USAID to facilitate the massive Mumbai Transformation Programme.
The conference also included a presentation on India's Peer Experience and Reflective Learning (PEARL) programme, which fosters the creation of networks between cities for cross-learning and knowledge-sharing on urban reforms and city governance. It is part of the Jawaharlal Nehru National Urban Renewal Mission (JNNURM), a large-scale fast-track city modernisation initiative launched by the Indian government in 2005.
Established in 1926, the AIILSG is a government-recognised, autonomous institute dedicated to the empowerment of local bodies and good local governance.
For more information about the conference, please see the attached agenda.
23/10/2009