Fight Slums Not Slum Dwellers, Urges Ugandan Minister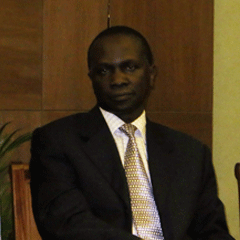 The Hon. Daudi Migereko, Minister of Land, Housing and Urban Development for the Government of Uganda at a June 4 workshop co-hosted by the Cities Alliance in Kampala.
[7 June 2012] – Uganda's Minister of Land, Housing and Urban Development, Daudi Migereko, highlighted the proactive steps his government is taking to address – and embrace – the rapid urbanisation currently underway in his country.
It is doing so by developing national policies and strategies that will help municipalities manage sustainable urban growth.  Notably, these policies are being undertaken with the involvement of all stakeholders and emphasise collaboration among residents as well as the public and private sectors.
Mr. Migereko made the
remarks
at a June 4 workshop on strengthening support through collaboration co-hosted by the Cities Alliance, the Global Partnership on Output-Based Aid (GPOBA), the Public Private Infrastructure Advisory Facility (PPIAF), and the Private Infrastructure Development Group (PIDG).
"There is no country in the world that has developed without urbanising and industrialising. However, there is need to plan for our urbanisation just like we plan for industrialisation in order to ensure sustainable urban development," the Minister said.
"Urbanisation should not be viewed as a curse to this country, but rather as a blessing since urban areas are the engines of economic growth globally."
He announced that the Government of Uganda has received a USD 150 million loan from the World Bank to revitalise 14 municipalities. These include five municipalities that are participating in the Cities Alliance-supported
Transforming the Settlements of the Urban Poor in Uganda (TSUPU) programme
, which is an initiative undertaken by the Government of Uganda and its support partners to align urban development efforts at the national government, local government and community level.
The Minister also stressed the importance of inclusive urban development and empowering residents to solve their own problems.  
"It is about fighting slums and not slum dwellers and fighting poverty instead of fighting the poor," he noted.
The Minister highlighted four major issues to address:
Ensuring implementation and enforcement of laws on proper physical planning and urban development

Providing the framework for collaboration to ensure effective, efficient service provision

Sourcing concessionary funding for infrastructure and housing development in urban areas

Mainstreaming employment creation and income generation while pursuing urban planning and development
Download a transcript of the Minister's June 4 remarks
(81 KB

)
07/06/2012