Draft International Standard for Determining Greenhouse Gas Emissions for Cities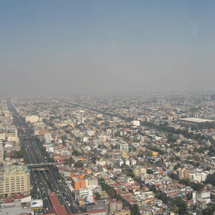 Mexico City. Photo: Ricardo Jimenez/Cities Alliance
The Greenhouse Gas Standard for cities is one of a series of tools that UNEP, UN-HABITAT and the World Bank are working on as part of a Joint Work Programme to support cities in making decisions and taking action to tackle climate change. The Joint Work Programme is being carried out with the support of Cities Alliance.
The Greenhouse Gas Standard calculates emissions on a per capita basis, allowing cities to compare their performance and analyse the differences. It builds on, and is consistent with, Intergovernmental Panel on Climate Change (IPCC) protocol and other greenhouse gas initiatives such as those carried out by the World Resources Institute, the Clinton Climate Initiative and ICLEI – Local Governments for Sustainability.
The standard provides a common format to make it easier for cities to collect information on their emissions either themselves or through the academic community. It has now been completed for more than 40 cities, but the goal is to eventually have all cities around the world represented.
UNEP, UN-HABITAT and the World Bank recognise the importance of climate change for cities and are working jointly to produce tools, programming and resources for cities as they respond to climate change. Within the framework of the Joint Work Programme, the Cities Alliance Secretariat is facilitating the partnership as well as providing technical, administrative, and financial support. 
Download the Greenhouse Gas Standard